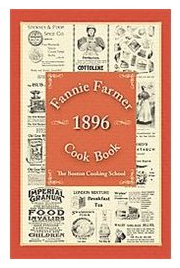 One of my favorite books of all times are cookbooks! I love trying new recipes, and it makes it nicer since we have switched from making meals out of the box, to actually cooking out meals. One thing I have learned while working to live a healthier life, is that home cooked meals taste so much better than out of the box meals.
I can say in the last two months, I have made nothing from a box!!!
I have to say one of my all time favorite cookbooks is the Fannie Farmer 1896 Cook Book
! The Fannie Farmer cookbook has been a classic bestseller for over a century! There are over a thousand recipes, and even some great pointers.
This cookbook has some of the simplest recipes in it. If you don't know how to cook no problem, you will have no problem understanding these recipes. They're super simple!
Fannie Farmer was born March 23rd, 1857 and passed away January 15th, 1915. She had a stroke that left her home-bound for over a decade. During this time she turned her mom's home into a boarding home and it was known for its yummy meals. She later attended Boston Cooking School where her book was later published in 1896. This cookbook became very popular. If I had to guess why I would say because it is very easy to read, the recipes are super simple, there is not pages of directions.
One of my favorite recipes is how to make banana ice cream
Banana Ice Cream the Fannie Farmer way
1 quart cream
4 bananas
1 1/2 tablespoons lemon juice
1 cup sugar
Remove skins, and run bananas through a sieve; add remaining ingredients; then freeze.
Yup, it is that simple, no expensive ice cream machine, and very little ingredients.
She even shows you how to make basic things such has properly steaming veggies, and boiling eggs. Whether you are a pro in the kitchen, or just learning I highly recommend this cookbook.
I received the above product for review purposes only no other form of payment was received.