A few weeks ago I was introduced to a company called Fathead. I personally had no idea what the company was about, until I ran across a giveaway. I spent a while searching their site to let the giveaway host know which one I would pick if I won… With my daughter loving Hello Kitty's I knew if I won that would be my pick.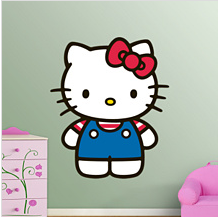 Little did I know Fathead was going to be reaching out to me! I was super excited when I got the email to do a review and giveaway. I quickly went and told my husband, and sure enough him and our daughter already new about this company. Why was I the only one sitting in the dark?
If you're like me, and you're unsure what Fathead is let me give you a little brief about them.
Fathead is a company based out of Michigan! Funny thing, I was born and raised in Michigan, so it was really awesome being able to review a product with their main headquarters not far from where I grew up. They offer licensed sports and entertainment wall graphics. If you're not a big fan of sports, not a problem, I bet Fathead has something you would also love. With them being the leading brand for sports, and entertainment wall art, they literally have thousands of products to choose from. Some of their products include, Fathead Jr. , Fathead Skins, Team Helmets and Logos, and they even have a large selection of kids Fatheads.
Some of my favorites included the Hello Kitty, Littlest Pet Shop, and their Disney ones.
Whether you are looking for wall art for the children's room, or the man cave. I can almost bet you will find what you are wanting at fathead.com.
I decided I would let my daughter look at the site to see which Fathead she was interested in, and sure enough she went with the Hello Kitty.
When it came in the mail, I was not expecting it to be that big, now I see why they're called Fathead's.
In the second picture you can see how big that is on the wall, I love that it also came with smaller Hello Kitty wall graphics. As you can tell I have not peeled this off and placed it on the wall yet. While we were in Michigan we were allowing family to stay here, well their daughter colored all over the wall, so it's in need of some paint. Instead of having to move it when we paint, I just stapled the corners to the wall, so it will not get destroyed.
Fathead's are made to be moved without ruining the walls.
How would one of you like to win your own Fathead?