If you enjoy wine, then you may find Mionetto's new 'IL' Spr!z will bring delight to your taste buds. Imported from Italy to Mionetto's U.S. distributor, this wine makes authentic Italian flavor available for all American wine lovers.
'IL' Spr!z was inspired by the authentic recipe of Veneto in Italy. It combines a semi sparkling white whine with a citrusy flavor that can't quite be described. The ingredients state that a selection of herbs are also in the wine. Although I can't quite place which herbs are being used, these contribute to the unique and delicious taste of 'IL' Spr!z very nicely.
The wine is very smooth and easy to drink. The semi sparkling nature gives 'IL' Spr!z the perfect amount of carbonation that anyone will find enjoyable. I've always liked lightly carbonated beverages so I was quite pleased when I realized the wine was not too overly carbonated for my tastes For a sparkling wine, Mionetto's has a fairly high alcohol content of 8%. This makes it very full flavored but still really easy to drink. Many wines I've tried in the past were either too strong and pungent or too weak to even taste the alcohol. I was surprised to see 'IL' Spr!z is a happy medium between this.
I don't often drink alcoholic beverages, but I found 'IL' Spr!z to be a wine that those who do will likely enjoy. The health benefits of having a glass of wine with dinner are well documented. I have tried a variety of red and white wines for this very reason. Although most of them were a bit too far on the pungent side for me, Mionetto's 'IL' Spr!z is a wine I could easily drink every night with dinner. My wife normally doesn't like drinking, however, she found Mionetto's 'IL' Spr!z to also be very refreshing.
Whether you're a regular or occasional drinker, I believe you will find 'IL' Spr!z is delicious and full flavored without being overly pungent. I'd recommend anyone who likes wine to definitely try this one, and best of all there is only 92 calories per 4 ounces!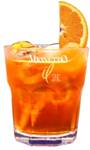 'IL' Spr!z is the only ready to serve spritz in the US, and is priced at $15/750ml, and $8/375ml.
We were sent a sample bottle for review purposes only no other form of payment was received. This is our own review, and receiving a sample did not change our opinion on the product.