Bones has become a very important part of our lives, and if anything was to happen to him, I am not sure what I would do. I remember when getting a dog was out of the question. All I could think about was dog poop in the yard. However, we did get our daughter a puppy and he is the sweetest most smartest thing you will ever see!
With him being a big part of our family it's important that we feed him well. With all the pet food recalls it makes one leery when getting their furbaby food. When looking at the label on food for him the first thing I want to see is an ingredient I can pronounce.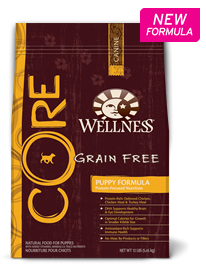 Recently we were able to check out the Wellness Core Grain-Free Puppy Food, I can not tell you how good it was, so you're just going to have to ask Bones… Let's see what he thought of Wellness core puppy food
.
Bones, How did you like Wellness Core Grain-Free Puppy Food?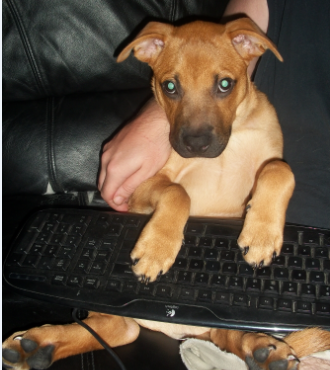 I think the verdict is in, and Wellness Core All Natural Grain-Free Puppy Food was a HIT!
Wellness Core products are made with your pet in mind, all pets need a well-balanced diet so they live long healthy lives. The Wellness Core products are created not only by animal lovers, but also by nutritionists and veterinarians, so you know these products are going to be loaded with nutrients your pet needs. All Wellness recipes include only the finest ingredients such as, lean meats, fruits and vegetables. You will not find products such as wheat, corn or soy. You also will not find any added artificial products that are in my eyes are only fillers.
Since there are no fillers and only the best ingredients are used to make Wellness Core dog food, you will find it to cost more than your average at the store filler dog food. The bag sizes range from 4lbs up to 26lbs, and the prices are anywhere from $13.49 all the way up to $73.99
To find a store near you that sells the Wellness Core line you can check on their website in the bottom right hand corner. I can purchase this brand at the local Tractor Supply Store. I do wish the brand was a tad bit cheaper, because I would buy this on a regular basis for Bones; however, a 4lb bag only lasted in about 4 days, and I cannot afford to spend a ton in puppy food a month. I will purchase this every so often though, because as you see above he loved it. Normally he will eat on his food through-out the day, with the Wellness Core he didn't leave the bowl until it was gone!
If you would like to find out more about Wellness Pet Food you can visit their website at http://www.wellnesspetfood.com
You can also follow them via social media:
Pinterest | Facebook | Twitter
Bones gives Wellness Core Puppy Formula two thumbs up!
We received the product for review purposes only, no other form of payment was received, this is Bones honest opinion.