Lloyd M. Graham is a controversial  writer who argues that the stories of the Holy Bible are merely reflections of ancient tales that were created before the Bible itself. Deceptions And Myths of The Bible addresses historical knowledge that pre-dates the Christian religion.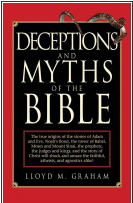 The book argues that creation itself is the plan of God, but through a much more naturally occurring process.  This book is not for inexperienced readers. The introduction itself is philosophical as well as historical in nature while explaining the views of the author in great detail. Deceptions and Myths of the Bible goes on to completely analyze the Holy Bible and explain the literal ancient meanings of its symbolism.
This book doesn't dispute that God exists, but points out how the Bible was created as a means of control by priests of the Roman Catholic church. The author provides a great deal of historical facts to back up many of his claims, but many of his interpretations are exactly that. His own understanding of Biblical meaning when put against ancient mythologies and lore.
Deceptions and Myths of the Bible is a very in depth and interesting book. The authors interpretations show that many scriptures have symbolic meanings related to planetary science and evolution. While the book may be upsetting to some Christians, it is actually quite respectful. As previously stated, the author does not dispute God's existence, but disputes the historical inaccuracies of the Bible's tales and the corrupt purposes behind its creation.
Whether you're a history buff, philosophy lover or a devout Christian, Deceptions and Myths of The Bible is a very interesting read.  Keep in mind that the author  has an extensive vocabulary that more inexperienced readers may find hard to follow. For readers adept in metaphysical, scientific and philosophical style writing, this book will satisfy your hunger for a deep and thought provoking reading experience.