One of the things I dislike most about cleaning is washing the dishes! I dislike this with a passion!!! I don't know if it's the standing for a long period and the fact it kills my back, or the scrubbing of nasty pans. When I do wash dishes I usually leave all the silverware, and my husband washes that. Yea, I am not a fan of the silverware. What makes washing dishes a bit more bearable is the dish liquid. I cannot stand to wash dishes with a cheap dish liquid. I don't mean cheap as in price, but cheap as in product.
For the longest time I wouldn't purchase Palmolive dish liquid. The original green stuff to me is to thin, thus making it not the best for washing dishes. Everyone has difference preferences, I prefer a thicker dish liquid. When I was introduced to Palmolive's new line the Fresh Infusions, I had to try it out to see if it was different from the other Palmolive dish liquid I used in the past.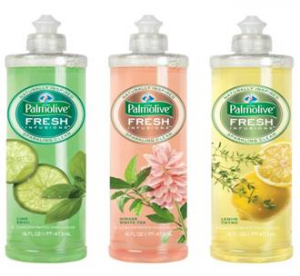 The Fresh Infusions line comes in three scents Lime Basil, Lemon Thyme, and Ginger White Tea. I find washing dishes to be more pleasant when I have a fresh scent accompanying the bubbles. I put the new line to the test, and I was very pleased that it seemed to be thicker then the Palmolive dish liquid I have used in the past, which was already a PLUS. The scent the dish liquid throws off was also very pleasant. Although, I still dislike washing dishes, I didn't mind it as much with Palmolive Fresh Infusions.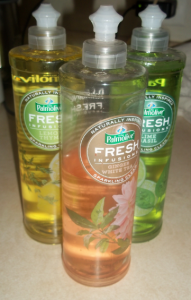 So with the kids heading back to school it will probably mean YOU are stuck washing more of the dishes! On your next shopping trip pick up some Palmolive Fresh Infusions and make that job a bit easier. Shhh the kids don't need to know :)
I received product to sample, no other form of cash was received, this is my honest opinion and others may vary.