Wine is an acquired taste for most people, I personally love the taste of a good Merlot and recently got to get up close in personal with Black Box wine of my choice. The Black Box Wine company has an impressive history as high quality Californian wine makers. The company has received over 20 gold metal awards and were listed as a best buy wine 17 times in Wine Enthusiast Magazine.
Because of Black Box Wine's achievements and standing in the wine enthusiast world, I was excited to try their Merlot for myself. I received a large box of current Merlot as well as a very inventive travel sized box of Merlot from 2009. The wine is made for serious wine drinkers with a full aromatic body and a rich finish that is right at the sweet spot between dry and wet. In typical Merlot fashion, the wine has flavorful berry overtones that will make any Merlot lover say "mmmmm".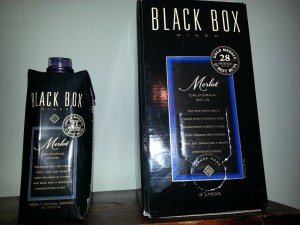 Coincidentally, shortly after I received this wine, it was my nieces birthday. She's not a wine drinker at all, but I used some of Black Box Merlot to make her a frozen berry lemonade and she loved it. The wine is 13.5% alcohol, so it is quite strong for those not used to drinking real wine, but functions well as a mixer for those without a taste for such a full bodied Merlot.
Whether you're am experienced wine drinker or not, Black Box wines offer an elegant dinner wine or a casual drink at a very affordable price. In addition to this, their box packaging method helps promote greener waste by leaving less of a footprint on the earth compared to glass or plastic. If you have a special event to cater or enjoy an evening glass of full bodied wine before bed, give Black Box wines a try.
You can purchase Black Box Wine for only $24.99 that is the equivalent of paying $6.25 per 750ml Bottle!
We received product for review purposes only no other form of payment was received.