Oral hygiene is important in our family, I had a rough pregnancy and it took a big toll on my teeth. So I stress to my daughter daily how important it is to keep her teeth clean. My daughter was lucky enough to get my husband's teeth, nice and strong, BUT they're also BIG. On the last trip to the dentist he noticed she has no room in her mouth, thus making the brushing she does not as effective as it should be.
Since brushing alone already misses so much it is important we do other steps to assure she does get her teeth clean. What does this mean? It means not only brushing several times a day, it means flossing daily, and using mouth wash daily. She also has to use fluoride every night before bed. With her having big teeth and a small mouth we have an appointment scheduled to see a specialist to see what we need to do next.
It wasn't until recently we checked out Listerine Smart Rinse. Listerine Smart Rinse helps strengthen the teeth 99% better than just brushing. It also provides 12-hours of cavity protection! With our adult teeth being the only set of teeth we will ever have it is important to take care of them.
With small children it can be a pain to get them to brush daily without complaints. I know I had a hard time getting my daughter into brushing her teeth, it wasn't until the dentist talked to her that she started to take it a bit more serious.
With oral care being so important it is extremely important that we teach our children to properly care for their teeth. With it being a struggle pediatric dentist and member of the American Academy of Pediatric Dentistry, Dr. Kaneta Lott, has several tips and tricks to get children of all ages invested in their oral care and taking care:
Show, don't tell: Share the brushing, flossing and rinsing experience with your children as they are more likely to imitate behavior they see adults doing.
Make oral care fun: Turn flossing into a funny-face contest or brushing into a game of "Simon says."
Reward healthy behavior: Offer rewards for achieving brushing, flossing and rinsing goals with stickers or prizes…who doesn't love some praise every now and then?
Since getting Listerine Smart Rinse I have noticed Gillian is has been taking better care of her teeth, before I was reminding her daily, now she is doing it before I even mention it. She isn't a big fan of the flavor, but she knows it's in her best interest to use Listerine Smart Rinse daily.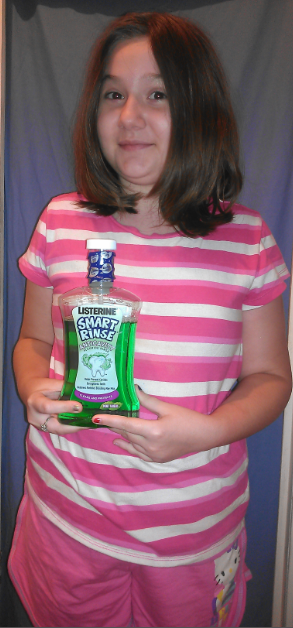 Right you can get a coupon for $1 off Listerine or Reach kid products by visiting http://www.listerinekids.com/. With the holidays coming up Listerine and Reach products would be great for those stockings!
One lucky reader of The Neat Things in Life is going to have a chance to win 2 bottles of Listerine Smart Rinse!
I received product for review purposes only, no other form of payment was received.