The past few months we have been doing small things around here to make it home. I got all my pictures on the wall, I have added a few more, our daughter's room has received a make-over and she is sleeping in there now! We wanted her room to be a place where she could go when she needed a break. So we let her pick the color, we decorated it how she wanted. Mostly all Hello Kitty, with a little Monster High thrown in there.
When Paint Your Life contacted me I knew right away I wanted to do something for my daughter's room. Something that was different, so I talked to my husband and we decided on a Zombie Hello Kitty painting. My husband got on his computer and started to make the picture how we wanted it.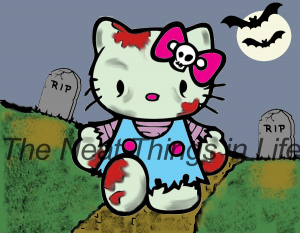 End result… Zombie Hello Kitty, my husband painted via gimp the above in Monster High colors to go with her bedroom, and he also added the path and grass. This is currently a one of a kind! After he had it set the way we liked it we sent it off to Paint Your Life. I loved the whole process, they fix the image up some send it back for your approval. Once you approve they start working on the painting.
When the artist is done with the painting, they once again send you what the painting looks like you approve it or let them know what changes need to be made. Below is the image I received showing me the end result…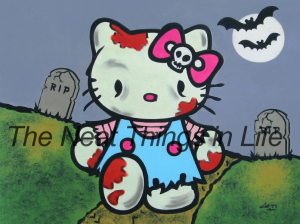 This is almost a spitting image of what we sent over to have painted! The color of Hello Kitty's shirt is a tad off, but over all I was impressed! I gave my approval and it was then shipped to me, the whole process was faster than I expected it to be.
The painting arrived in a professional tube, and was nicely protected.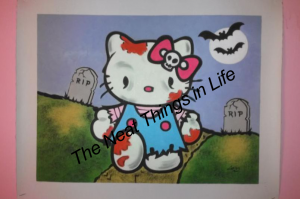 As of right now I the painting stapled to her wall, so that is doesn't get ruined. I love this painting! As soon as we can we will be getting a frame for it. This particular painting I believe was $119 very reasonable considering it is an oil painting.
All paintings from Paint Your Life are done by professional artists who take pride in their work, all the way down to some of the smallest details. You can look in the above images and see they matched the painting almost to a T with the image my husband did. I would highly recommend this company.
If you still have shopping that needs to be done this holiday season a custom painting from Paint Your Life would make a perfect gift for just about anyone on that shopping list.
Paint Your Life currently has a few deals going on, you can use code winter20 to save 20% on your order, or become a facebook fan of Paint Your Life and receive 25% off.
One lucky reader of The Neat Things in Life is going to have a chance to check out Paint Your Life first hand. Paint Your Life has generously offered to give one reader $100 credit to Paint their life!
Giveaway is open to US residents 18 an older.
I received product for review purposes only, no other form of payment was received.