As one gets older their skin starts to change as well. I have been very lucky thus far, and I am not aging as fast as some my age. I would like to say it's because I take care of my skin, however, this is untrue. While I do drink a lot of water, I don't do anything special with myself to keep the young look. I know it will all catch up with me down the road, so I have started using products that will help keep the aging process to a minimum.
The RéjuvaSea Skin Nutrition System is a 3-step system that will help keep your skin beautiful, healthy, and radiant. What makes this system different from the rest? The anti oxidant is created by using a rare marine source which is found in the waters of Veta la Palma.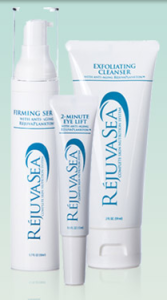 The 3-step system contains an Exfoliating Cleanser which will help in removing all the dead skin cells, while stimulating new ones. This cleaner is designed to use twice a day, for the best possible results.
Then there is the firming serum which also has anti-aging properties in it, to help keep your face looking young.
With old age also comes saggy eyes. Being a mother I know all to well what saggy eyes are, when you become a new mom, you tend to lose a lot of sleep. This 3-step system also comes with a 2-minute eye lift, to help bring those eyes up while giving you the glow you have been looking for.
While we cannot stop old age, we can help our skin with the transformation process, and keep our young look as long as possible. I will keep doing everything I can to keep the young look, thus far it seems to be working rather well, whenever I go in places where you have to be a certain age I always get carded. I was even once told I only looked 19, this of course was when I was 28!
Would you like a chance to also try out the 3-step RéjuvaSea Skin Nutrition System? Head on over to the RéjuvaSea website, where you will have a chance to win a complete set. They're giving away 100 a week so chances of winning are good. Also be sure to like them on facebook where you will have a chance to win $100 store credit.