Back when I was younger one thing I loved to do after eating all the fruit loops was drinking the milk. I would always get extra milk so I had more of the yummy fruity taste. One day, I got a bit to much and I somewhat took almost all the milk. In a panic because I thought for certain I would get yelled at, I poured almost all the milk from my cereal bowl back into the milk jug.
This made for some yummy milk. For me anyways, because I never told a sole, and when my parents went to get a drink they thought the milk was going bad. Shh don't tell NO ONE, I still have not told them the reason behind the fruity tasting milk.
Anyways, now that I am older nothing has changed the milk from cereal is so yummy, and my daughter thinks the same. So when I was introduced to Cow Wow, I knew we had to try it!
About Cow Wow:

Cow Wow, a single-serve, ready-to-drink, flavored milk box captures the unique and delightful taste of the bottom of the cereal bowl. This delicious and nutritious dairy beverage is a low-fat, organic milk that contains nine essential nutrients and vitamins and is a good source of calcium, protein, and potassium. The product is UHT processed, which certifies refrigeration is optional, and can be stored for up to one year until ready to drink. Cow Wow recreates the best part of the bowl into a healthy snack!
We were able to try Fruity Trudy and Chocolate Chip Cathy.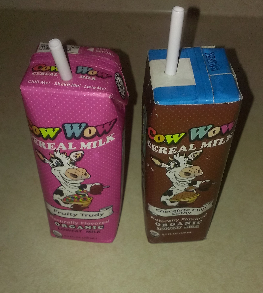 When we first got Cow Wow Cereal Milk we put it in the fridge to chill. Once it was chilled we pulled it out to give it a try. Love the straws that come with the drink. My daughter grabbed the Fruity Trudy and I grabbed Chocolate Chip Cathy. Of course, we both let each other try the other ones, I loved Chocolate Chip Cathy it was so yummy, tasted just like if I were to eat some cookie crisp cereal. Fruity Trudy tasted just like when I made that mistake when I was a kid with pouring back the cereal milk. Yummy!
While I liked them both, my daughter's favorite was Chocolate Chip Cathy. Want to see what she had to say about it? She took it to Facebook, letting everyone know what she thought, she even showed pictures!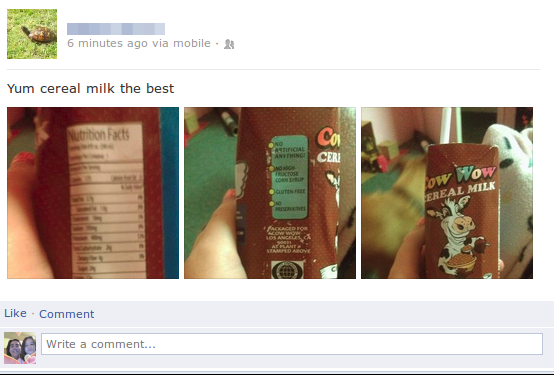 Cow Wow brings something new to kids, that is not only organic, but is good for them. When we switched our eating to natural and organic, I thought for certain the food wasn't going to be that great, I have to say organic and natural foods are so much better. They taste better, they have a different texture, and they fill you longer.
Cow Wow isn't just about the unique flavors, it also contains 9 essential vitamins and minerals, which makes this mom happy!
Cow Wow is soon to have a 6 different unique flavors, so our kids will have more of a selection and comes packaged in single serving milk boxes, with a shelf life of up to a year.
I would love to check out the other flavors, the main one I want to try is Peanut Butter Bessie, I bet it's delicious. If you are in Southern California, there are over 100 locations in your area where you can purchase Cow Wow Cereal Milk, these locations include twelve Bristol Farms, select Albertsons, Legoland, the LA Zoo.
If you are like me and outside of the Southern California area you can purchase Fruity Trudy
on Amazon
.
If you would like more information on Cow Wow Cereal Milk, please visit: www.cowwownow.com.
We received product for review purposes only, no other form of payment was received. This is our honest opinion and others will vary.