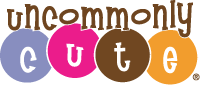 I miss my baby being a baby, and when I see cute adorable clothing it makes me want another one! While there were tons of cute clothing when my daughter was younger, it seems like over time they get a lot cuter.
Uncommonly Cute doesn't only bring us cute clothing, they also help those in need. When you make a purchase you are also helping a child that may have never knew what it was like to get a new shirt. Those over at Uncommonly Cute strive to bring you cute clothes for your kids, while also making a difference with Uncommonly Cute Cares.
To help Uncommonly Cute get the word out about there amazing clothing and what they're doing to help give back they have generously offered to give one of y'all  one shirt or bodysuit of your choice with free shipping, that is a value of $25.00!
So what is it going to be all you social media mommies the "I'm Huge on Twitter" or the "Friends Like Me".
Giveaway is open to US Residents only.
I received no compensation for this post.