My daughter has been a big fan of Disney for as long as I can remember. She could sit for hours and watch her favorite shows which include Shake It Up, Dog with a Blog, Good Luck Charlie, Suite Life of Zack and Cody, and Gravity Falls. Recently, we were sent the Shake It Up: I <3 Dance CD for review. I knew this would be a big hit with my daughter, she loves everything there is about music, and is always listening to it, whether it be her favorite music app on her phone, or youtube videos.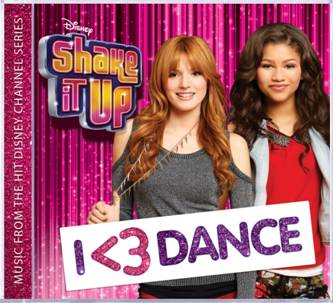 Shake it Up, is a hit show on The Disney Channel, that is geared towards kids age 2 – 12. The show is about two best friends CeCe and Rocky played by Bella Thorne and Zendaya, who have a dream to become professional dancers. Their dreams start to come true, when they land a role as background dancers for a popular teen dance show "Shake It Up, Chicago!"
This CD futures songs from the third season of Shake it Up!
1. Contagious Love (Zendaya and Bella Thorne)
2. This Is My Dance Floor (Bella Thorne and Zendaya)
3. Beat of My Drum (Zendaya)
4. Blow the System (Bella Thorne)
5. Afterparty (Roshon Fegan and Caroline Sunshine)
6. Holla at the DJ (The DJ Mike D Remix) (Coco Jones)
7. These Boots Are Made for Walkin (Olivia Holt)
8. Sharp as a Razor (McClain Sisters)
9. Future Sounds Like Us (Dove Cameron)
10. I Can Do Better (Young LA)
11. Shake It Up Theme Song (Cole Plante Reboot Remix) (Selena Gomez)
12. We're Dancing (Alex Ghenea 3.0 Remix) (Bridgit Mendler)
One thing I love about the CD is, that it's geared for the younger ears, when it comes to certain music out today, we have to watch what our daughter listens to. She has found her favorite songs from the CD are the Shake it Up Theme Song, These Boots Are Made for Walkin, and We're Dancing.
Shake It Up: I <3 Dance
, would make a great gift for those young girls that love music and Disney, and can be purchased for 9.99 on Amazon or on iTunes.
For more information, please visit Disney.com/music. Make sure to also like them on Facebook and follow them on Twitter for the latest updates.