A few weeks ago I was invited to Scottsboro, AL to attend the first ever Getaway Day for bloggers, which was being hosted by the Unclaimed Baggage Center. When I got the email asking if I would be interested in attending the event, I was clueless with what the Unclaimed Baggage Center was, so I educated myself.
I asked a few questions got the okay to bring my husband, with anxiety issues, and it being an almost 5 hour drive, I had no intentions on going solo. Now that we were going to this event we needed a place to stay, at first we were just going to get up and be out of the house by 4am to get there at 9am. We decided against that, hotels can be a bit pricey, and let's be honest, they can be awful boring!
So we decided we would CAMP, the plan was to leave Thursday morning, get to the campsite, explore, then go to the event the following day. We love camping, so now the challenge was to find which campground to camp at, we needed something with showers, we decided we would go to Buck's Pocket State Park. Buck's Pocket State Park is more of an undiscovered park, the reason we picked to stay here was because we also love geocaching, and there's 5 in this area.
After going up beautiful mountains, we found the camp, we paid and set our tent up.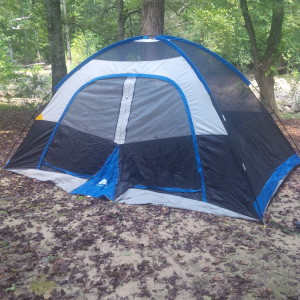 After the tent was up we took off to find some trails. At Buck's Pocket State Park, they have about 20 miles of trails, by the time we set off to hike it was about 2pm, so there was no way we were hitting all 20 miles. We set off to locate a geocache, but when the GPS started taking us up a boulder, I assumed it was the wrong way, so instead we took the orange trail.
Little did we know what was ahead of us…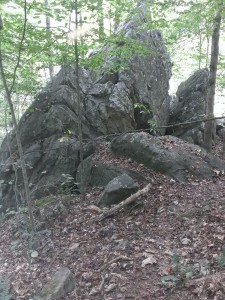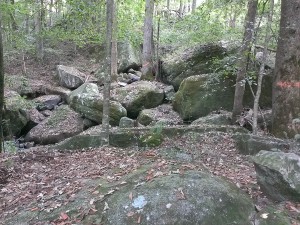 Huge boulders that looked as if bears were once living in them! Rock beds that you had to cross in order to get to the other-side of the trail.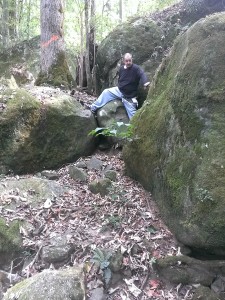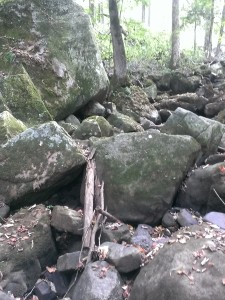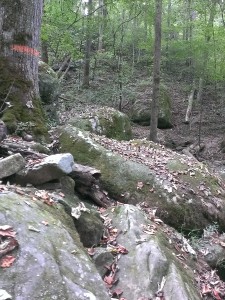 We even had to climb up the boulders to get continue on the trail.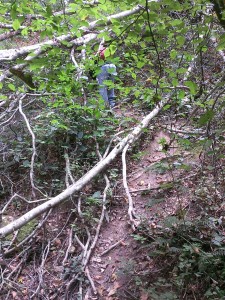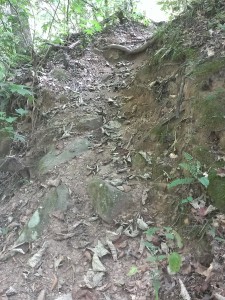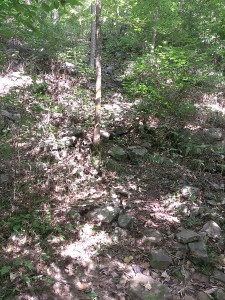 We went over trees, under trees, up huge slops, down huge slops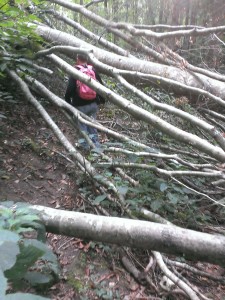 Then after about two miles we located what appeared to be a hide out!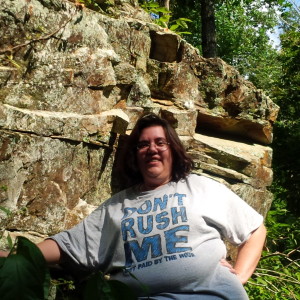 I climbed up several rocks, to get on top of a huge one, and get a picture in front of one, if I would have slipped, I would have fell in a cave. It was beyond pretty, after we stopped here, we decided it was time to head back to camp, we already drank all our water, so we are now hurting, sweating, and thirsty!
We end up getting back to the camp site about 3.5 hours later, we never did find any of the geocaches, although we were close to three during our hike. I was determined to find something! So we go in the car and went to find the look out, instead we found another trail. The High Bluff Trail, this trail is only .5 miles, but we were already wore out. So we looked around a bit…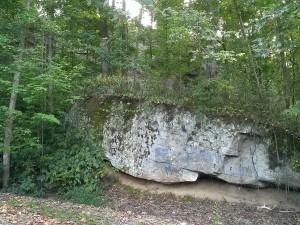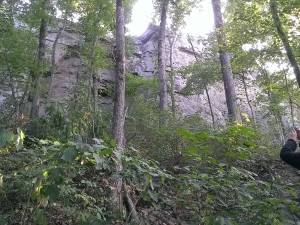 Above is the entrance to the trail, and the bluff we would have been on if we would have hiked it!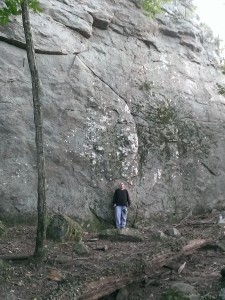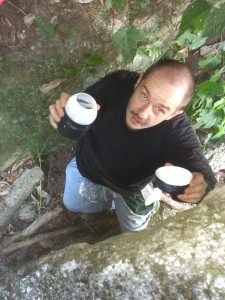 Look at how BIG the side of that mountain is, we were up pretty high, but guess what we found ONE geocache in that area!
We then went back and had a small campfire before retiring to the tent. About 3:30am we woke up and got ready to go to the Getaway Day for Bloggers.
I cannot wait to go back to Buck's Pocket State Park, we will be going back for certain, I have heard on some of the trails we were not able to get to they have waterfalls, the next time we go we will be taking our daughter because I know she will love it!
With being over 270 pounds, I was amazed at how well I was able to do the trail, and after looking up how many calories we burnt while hiking it was over 3,000! I would love to live in this area, and if I had the means and money to relocate I probably would in a heart beat.
Have you ever been camping at an undiscovered campground? Did they have awesome hiking trails? Give me another undiscovered location that my husband and I have to check out.