How many of you have heard of Jerry Garcia? For those of you, who haven't heard of Jerry Garcia, he was the lead man for the band Grateful Dead, as well as the lead guitarist. The Grateful Dead was a popular band in the 70's and is known for some of their hit songs such as Ripple, Truckin', Uncle John's Band, and Hell in a Bucket.
Jerry Garcia, struggled with many things in life, and had several addictions. These addictions contributed to his early death at the age of 53 in 1995. However, Jerry wasn't only an artist when it came to music, he was also a well known painter.
Recently, Jerry's artwork has made its way to scarves. Garcia Artwear has launched a new collection, this new collection showcases some of Jerry's finer pieces. This collection has four designs, each piece is unique and shows how talented Jerry Garcia was.
·     Banyan Trees: A soft-hued scarf with a touch of breezy sophistication, available in red and pink colorways. This scarf is inspired by Jerry Garcia's popular watercolor painting called Banyan Trees, which are prolific on The Big Island of Hawaii in which Garcia found a second home. Material: 100% viscose. Dimensions: 68" x 28" with 3" knotted string fringe.

·     Dawn At The Ritz: A richly colored scarf with an artful watercolor effect. Available in original (the colors of sunrise), sage and teal colorways. The impressionistic look of Jerry Garcia's Dawn at the Ritz watercolor is captured in this scarf, emulating the vibrant hues of the Manhattan skyline as seen from his hotel room window in the early morning. Material: 100% viscose. Dimensions: 68" x 28" with 3" knotted string fringe.

·     Feeding in the Light: An artistic collage of color, available in original (dusty orange), blue and teal colorways. This scarf is based on the painting Feeding in the Light, a tribute to Jerry Garcia's deep love of the ocean and skin diving, later renamed "Neighbors" by Garcia, indicating his awareness of the interaction between ocean species.  Material: 100% viscose. Dimensions: 68" x 28" with 3" knotted string fringe.

·     Wetlands I: A subtle medley of complementary multi-hues creates an elegantly artistic look. Available in two distinct styles. These scarves are based on Wetlands I, one of Jerry Garcia's first airbrush paintings in this dynamic style, which endures as one of his most popular works. Wetlands I Scarf: Material: 100% viscose. Dimensions: 70" x 38". Wetlands I Wrap: Material: 100% polyester. Dimensions: 70" x 43".
I was sent a scarf from the new collection to check out for myself. I was impress with this scarf, not only are the colors so pretty, this scarf is thin enough to wear in the spring, yet thick enough to also pair up with some designer jeans and wear in the fall months.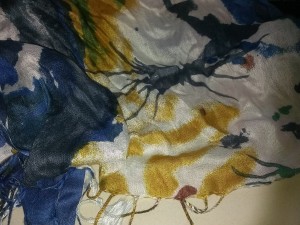 As you can see from the above picture the colors are so pretty. I got my daughter to model the scarf so you can see the full beauty.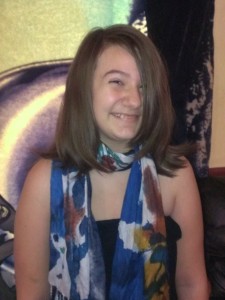 If you have a fashion diva on your holiday list this season, I would personally recommend the Garcia Artwear scarf. You can purchase these scarves at Gratefulgirls.com or on Amazon
.