With my dogs being my babies, we try to take them places with us, and trust me our boys LOVE car rides, as soon as they even think you are leaving the house, they get all excited and they will watch your every move, and most times, they're at the door waiting.
One thing we have learned is in this house, if you DON'T want the boys going nuts, don't say the b (bye) word. While we love taking them with us, some times it simply isn't possible. See, our boys like to wander in the car, they cannot just simply put their head out the window and enjoy the ride. They have to go from one window to the other, and often times that isn't good enough, so they will try to come in the front seat.
Try driving down the road with two 50+ dogs trying to squeeze by your arm that is being used as a barrier. This is NOT fun!
I recently had the opportunity to check out a product that would possibly allow my boys more car rides, while keeping me from beating the crap out of them losing my mind trying to keep them in the back seat. Auto Dog Fence Barrier, is designed to fit most cars, and acts as a barrier so your dog can no longer use the space between the two front seats as their walk way. Thus, keeping them in the back seat, and your attention on the road.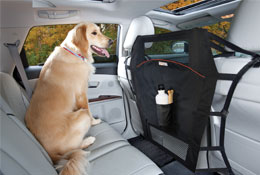 With that being said, there are many pros and a few cons to the product. A few things I liked about this product is the fact that it's washable, it doesn't block my visibility to the back window, I can still reach them if need be, and I love that is has a place on it for a water bottle for them and treats.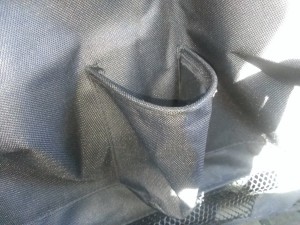 The Auto Dog Fence Barrier is also affordable!
There was only one con I found about this product and that is it didn't fit as snug as I would have liked it to, and well the dogs can still get over the barrier, now instead of walking through the area with the console  they jump over it.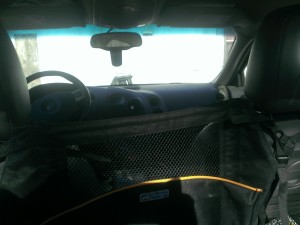 As you can see from the above picture our seats sit a bit lower, this making the barrier not go up as far as it should. I think we can do some tweaking to it though, and make it work better, so that the dogs are cut off from the front completely.
You can purchase the Auto Dog Fence Barrier by going here for $45.95.