When it comes to holidays I am a fan of giving those personalized gifts. I have always felt personalize gifts show the one receiving that you did take the time to plan out their gift instead of just going to the store and grabbing whatever you may come across. PicturesOnGold.com has to be one of my favorite places to get my family those perfect personalized gifts. They have a little bit of everything whether you're looking to Build Your Own Locket,  or wanting to design other photo jewelry for those close to you.
With Valentines Day not far away I was invited to review a locket from PicturesOnGold.com. With having one myself, I decided I was going to make this one for my sister. She has been feeling blue and what better way to cheer her up than a personalized locket for Valentines Day, with her true loves on the inside.
I love how easy it is to personalize products on PicturesOnGold.com, in the past I have used companies and the personalization part never shows up like it showed on the site. This makes for a very awkward personalized gift giving, however, when you personalize products on PicturesOnGold.com's website, you will get the product exactly how you see it on the site. No having to worry about getting a locket with part of the head missing!
When it comes to designing the photo locket, you can pick what you want on all sides of the locket. They have several clip arts to choose from. With my sister's locket, I went with "love" on the front and her initials on the back.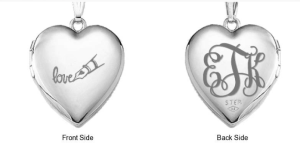 Then on the inside I went with pictures of her babies and once again I wasn't a bit disappointed in the product I received.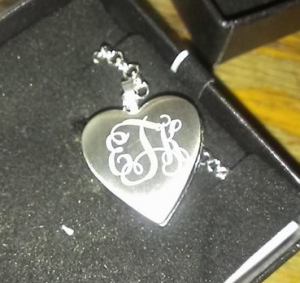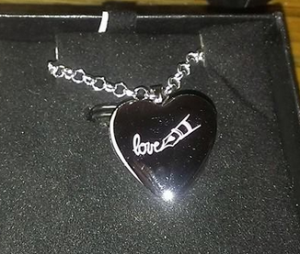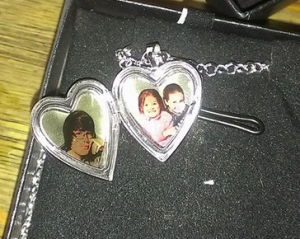 I know my sister is going to treasure this gift, and hopefully it will cheer her up. Valentine's Day Lockets are a great gift to show those close to you that you love them. Many view Valentines Day as a "couples" holiday, however, to me it is more about a "love" holiday, and showing those around you that you love them and are thinking about them. Whether it be your spouse, children, parents, or even the next door neighbor.
If you would like to order a personalized locket for that special love in your life you can use code valentine2014 at checkout on PicturesOnGold.com's website and get 10% off.
Thanks to PicturesOnGold.com one lucky reader of The Neat Things in Life, if going to have a chance to win a Build Your Own Locket! Please note you will not receive the locket until after Valentine's Day. Please use Rafflecopter to enter. Giveaway is open to BOTH US and Canada