I am almost 32 years old, and I have NEVER owed a nice full set of pots and pans. For the past 4 years, I have been using one pot that was all scratched up, and I had no frying pans. I had won a really nice ceramic one a little over a year ago, which has been a blessing in my kitchen.
So this tax season I wanted to purchase a nice set of pots and pans, no more cooking a meal in one pan… Off to Wal-mart we went, I really wanted a Paula Deen set, I new from the start I was going to pay a nice price to get a nice set, my husband and I looked at the Paula Deen sets, the Teflon sets, and the Better Homes and Gardens set. I was really not wanting to spend $100 on pans, however after comparing the 3 different sets we went with the Better Homes and Gardens.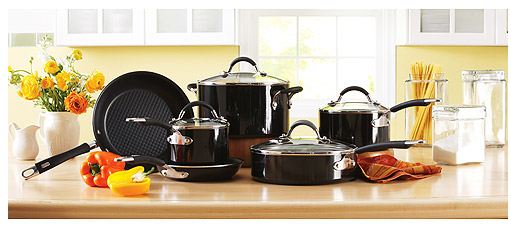 Out of the three sets we looked at, the Better Homes and Gardens looked better made, it was made thicker then the other ones, and the triple preforming grid at the bottom of these pans sealed the deal with our decision.
A bit more about Better Homes and Gardens Pans:
Complete set of durable aluminum cookware offers great versatility
Enameled porcelain exterior is durable and chip-resistant
Unique Triple Performance Grid means superior browning, great taste and easy clean up
Riveted silicone and stainless steel handle for comfort
Oven safe to 400°F for warming and baking
Glass lids to help monitor cooking progress
Lifetime limited warranty
Hand wash
10-piece set
Set includes: 1 covered Dutch oven with lid 6-qt. (5.7L), 1 covered sauce pan with lid 2.5-qt. (2.3L), 1 covered sauce pan with lid 1.5-qt. (1.4L), 1 covered deep skillet with lid 3-qt. (2.8L), 1 skillet 10″ diam., 1 skillet 8.5″
Developed with the famous Better Homes and Gardens Test Kitchen
Compatible with most all cook-tops with the exception of induction
My Opinion:
I LOVE these pans, I have always had to use my griddle to make fried eggs, and even though it is non stick I always have to use a ton of butter, to put these pans to the test I made some fried eggs, no butter just the egg and the pan. I went to flip the egg, and to my surprise it just slide around in the pan, I was shocked I can't even get these to slide around on the griddle. Needless to say, I have been making fried eggs almost daily.
I also discovered these pans make AWESOME omelets. I have always had issues making these on the griddle, I decided the other day I would make one in my new frying pan. I mixed 3 eggs with some milk, poured it into a nice hot pan, put the lid on the pan and let it cook. Then I added the cheese and tomatoes flipped a side over, put my lid back on, let it cook for a bit longer and walla I had an amazing omelet. My daughter has been getting me to make her omelets often, and had me get some black olives and mushrooms!
I love my new Better Homes and Gardens Pots and Pans!