Who said eating healthy had to be bad! When I hear the word diet when it comes to food, I think of bland tasting foods. I think of having to put the desserts on the back burner never to touch them until the pounds are gone. I think of God please help me find the will power to eat this nasty food on my plate. I think of having to cook more than one meal, a meal for the family and something else for myself. I think about how miserable I will be until the pounds come off.
When I decided I was not going to stop the Tied to Be Fit event in January, I started to search for recipes I could cook that tasted yummy and was low in calories. We all know one way to fail when it comes to losing weight is by removing your favorite foods from your weekly dinner menu. I did not want to take those good eats from my "diet". I do not even like calling it a diet, because it is a life style change.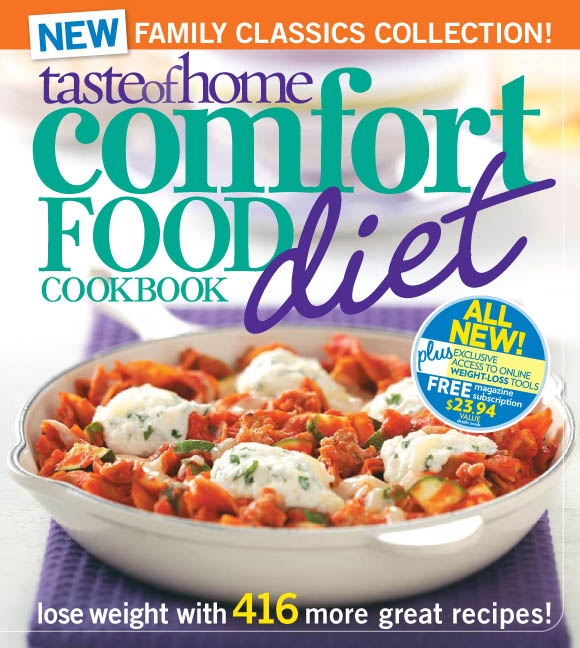 I recently had the chance to review Taste of Home Comfort Food Diet Cookbook! With 416 yummy recipes and 357 full color photos, this recipe book is sure to help you not only eat better, but drop some of those unwanted pounds!
Are you the type that likes to eat Mac and Cheese, what about Lasagna, Pizza, or Meat Loaf? Well Taste of Home Comfort Food Diet Cookbook, brings you some amazing recipes that will allow you to enjoy those foods, while still losing weight. Remember portion control, as long as you eat proper portions you will see those pounds vanish!
One thing I really like about this cookbook, is everything is broke down in sections. There is a 6-week meal plan, as well as your snacks, breakfast, lunch, and dinner sections. The foods in this section are categorized into the amount of calories per serving. Not only does this help when planning your meals this also helps when figuring in your calories.
One recipe I tested in the Comfort Food Diet Cookbook was the makeover tater-topped casserole! With only 340 calories per serving, this was going to be perfect for dinner!
This recipe comes from Scott Woodward from Wisconsin, with a little help from Taste of Home the recipe was revised to still taste great but to have fewer calories.
Makeover tater-topped casserole:

1-pound lean ground beef (90%lean)
½ pound extra-lean ground turkey (I left this out, and it came out fine, and was fewer calories per serving)
1 package (16 ounces) frozen mixed vegetables, thawed and drained
¾ cup French-fried onions
1 can (10 ¾ ounces) reduced-fat reduced sodium condensed cream of celery soup, undiluted
1 can (10 ¾ ounces) reduced-fat reduced sodium condensed cream of chicken soup, undiluted
½ cup fat-free milk
4 cups frozen Tater Tots, thawed

In a skillet, cook the ground beef and turkey over medium heat until no longer pink. In a 13-in. x 9-in. baking dish coated with cooking spray, layer the neat mixture, vegetables, and onions.

In a small bowl, combine soups and milk; spread over onions. Top with Tater Tots. Bake, uncovered, at 350 for 55-60 minutes or until golden brown.

Yield: 8 servings

Nutrition Facts: 1 cup equals 340 Calories, 14g fat (4g saturated fat), 44mg cholesterol, 657mg sodium, 33g carbohydrate, 4g fiber, 22g protein.
This dish was a hit with my family! I cannot wait to try some of the other yummy dishes in this cookbook, one of the desserts I am excited to make are the Cocoa mint truffles.
Purchase:
Taste of Home Comfort Food Diet Cookbook retails for $17.95, plus you will get a free subscription of Taste Of Home Healthy Cooking a $23.94 value!
Connect With Taste Of Home:
Website: http://www.tasteofhome.com/
Facebook: http://www.facebook.com/tasteofhome
Twitter: http://www.twitter.com/tasteofhome
Disclosure: I received a copy of this cookbook for review purposes only no other form of payment was received. This is my honest opinion and others may vary.