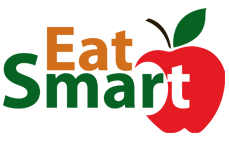 One of the hardest things about losing weight, is getting on the bathroom scale only to see the number go up instead of down. When this happens it usually puts me in a downhill spiral, and I give up. I am good at giving up, if I told you I never gave up I would be lying. Truth is I am only human and I often find myself struggling, and what happens when one struggles? They often fail!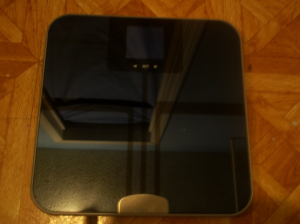 Don't mind the doorway on the scales, one great thing about surfaces that reflect!
This time around I am not failing, thanks to the EatSmart Precision GetFit Digital Body Fat Scale, I am able to see the actual numbers. After I received the scale I had to check it out, I needed to see what my numbers were so I could keep a close eye on them. Upon standing on the scales I was not in the brightest mood, my water weight, and muscle mass looked sad. Did you know your body weight should be made up of over 50% water? According to the scales my water weight only makes up 1/5th of my weight, this is not good!
The only number that was about where it should be was the bone mass.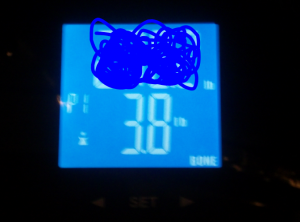 Sorry wasn't ready to show my weight. :)
The GetFit Body Fat Scale was very easy to set up, and with its automatic user identification technology it will not mistaken my numbers for my husband's. With its step on technology it makes weighing myself a lot faster. Take clothes off and step on, no waiting for those zeros to pop up. However, if you do move the scale you need to turn it on and wait for it to reset back to the zeros, or you will find the scale to be off.
A few of the things I like about this scale is the fact it measures more than just my weight, it also measures body fat, water weight, muscle mass, and bone mass. The GetFit is able to store up to 8 different users into the system, so if you have a big family you can save all their stats as well.
If you're like me you maybe asking yourself, how is this scale able to calculate all that information? I was wondering the same thing it uses a technology called BIA (Bio-Electrical Impedance Analysis). In order for this to work you will have to have your information programmed into the scale, once you have it in there, you step on the scales with your bare feet. A low-level electrical signal is then sent through your body and you will see what the measurements are on the LCD display. While this signal is safe, and you will not feel it, the scale is not recommended for children under the age of 10.
Are you serious about losing weight, and want to check out the EatSmart Precision GetFit Digital Body Fat Scale
? (weight limit is 400 pounds) Then you're in luck! EatSmart has generously offered to send one lucky reader of The Neat Things in Life, their very own GetFit Digital Body Fat Scale! If you're always looking at those numbers this is the scale for you, and you will find that it does make losing weight easier.
I received above product for review purposes only, no other form of payment was received. This is my honest opinion and others will vary.