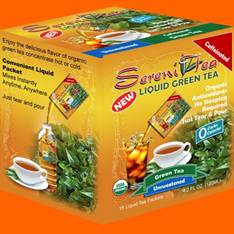 Sometimes drinking nothing but water can become pretty boring. With focusing more on my weight, I drink as little calories as I possibly can. Recently I had the opportunity to sample some all natural unsweetened organic green tea from SereniTea®.
Lately, we have been trying to go all organic so I was glad to see SereniTea® is grown with no chemicals, and it's the first of its kind to be available in single serving packets. Which makes it great for those on the go.
I was able to try Peach; I was surprised how a small packet held big flavorings. Before I went all water I drank sweet tea, so with this not being sweetened I was amazed with the actual flavor of the tea.
I like the fact I can carry them with me in my purse so when I am out running errands all I need is a cold bottle of water and I can pour my tea packet into the water and have a nice refreshing change. For those also wanting a change SereniTea® comes in several flavors, you can get it sweetened or unsweetened.
Although the main headquarters is in California, SereniTea® is grown in the Wuyi Rock Mountains of China.
If you are wanting to check out SereniTea® for yourself, you can purchase it directly through their website. To find out more information about SereniTea® be sure to follow them on twitter and facebook. This is where you will find the most up to date information.
I received product for review purposes only, this is only my honest opinion and others will vary.