I have a big addiction, not only is it to do reviews, it is also to enter giveaways. Not long ago I got a direct message from Special K, they wanted to thank me for being their friend on twitter, and wanted to send me a special gift! I was super excited not only because Kellogg's is a company based from my home state of Michigan, but because they noticed little ol me out of 7,000 other followers.
I quickly responded and waited to see what they might be sending me! When it came I was super excited, I got to check out some of their new products. I love checking out new products that hit the stores, whether is be food or items for my family.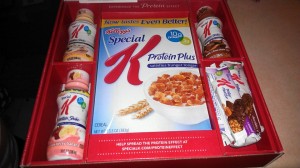 With trying to lose weight I have been looking for friendly snack products, and protein drinks. I know I need more protein to see greater results, so when I received the above in the mail, I was so excited, first thing I did was put the protein shakes in the fridge to get cold, then once they were cold… I um umm umm I don't want to tell you! Okay, fine I umm umm drank ALL THREE oops, my bad. Hey I wanted to see how they each tasted, and to be honest, I think I liked them all the same. Maybe the french vanilla just a tad bit more.
However, I tried the meal replacement bars first, I did share those with my husband and daughter. I of course snagged the chocolate peanut butter one though, shhh don't tell them I had a chocolate peanut butter one. "wink" our little secret!
My daughter was the first to try the Protein Plus cereal she loved it! I loved that it had the cinnamon kick to it, yummy. I know Special K will be making it on my grocery list, everything from the cereal to the protein shakes!
Have you tried any of these items yet? I tried finding the Protein shakes in Walmart, I might have been looking in the wrong spot though. If you haven't tried them yet I do recommend these products, they're a great way to get your day started right, and with school back in session we need our days to be started properly.
I was not required to write this post, I did it because I loved the Special K products and this was a gift to me for being their friend on twitter. I love me some gifts like this.