Did you know February is National Snack Month! I sure didn't, what a way to ruin a perfect New Year's Resolution! Thank goodness there is Yum Yum Dishes, if you are just now starting to follow The Neat Things in Life, then you may not know what Yum Yum Dishes are, well they are hand painted, 4 ounce bowls great for snacking.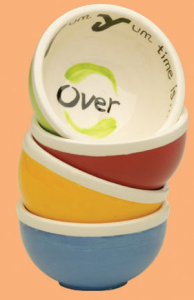 These neat little dishes, were created by a mom that often over snacked. This was her way to leave the bag or chips in the cupboard and a small amount of yum yums in her bowl.
Since, February is National Snack Food Month, Yum Yum Dishes along with its newest team member — Lisa Mosley from last season's The Biggest Loser — are holding a recipe contest. Fans can enter their favorite Yum Yum Dishes recipes for a chance to win one of four $30 Visa gift cards!
Yay, I am ready to win $30 to purchase more snack items for my neat bowls. I could purchase some Chex cereal, maybe some raisins, peanuts, sun flower seeds, don't forget those m&m's. I would then make the perfect trail mix, a little salty and a little sweet.
For more details, on February's Yum Yum Dishes contest you can head on over to the Yum Yum Dishes website, of their facebook page. From the looks of it there is 4 gift cards up for grabs, and the more snack recipes you give the better your chance to win!