I am participating in the Verizon Wireless Ambassadors program and have been provided with a wireless device and three months of service in exchange for my honest opinions about the product.
When it comes to living a healthier lifestyle, it's important to have the proper tools. If you're trying to lose weight, without the proper tools, you can become discouraged.
If you have a smartphone, tracking your fitness has never been easier. With the different fitness accessories on the market, you are sure to have great success. With being a Verizon Wireless Ambassador, I have discovered several great apps and accessories that will help encourage weight loss and one to live a healthier lifestyle, some of these apps and accessories I have been using to get fit myself, and the others I would love to own, to help me along my journey.
Fitbit Zip
One key to being healthy is to keep our bodies moving. For some this can be a challenge, this is where the Fitbit Zip comes into play. The Fitbit Zip, counts your steps taken, the distance you have gone, and the calories you have burned.
Seeing the numbers first hand, and knowing how many more steps you need to go, in order to reach your goals, can be the motivation some of us, including myself, need to keep our bodies moving.
One great thing about this device, is I have found it to be one of the more accurate ones, when it comes to counting the steps. The Fitbit Zip, DOESN'T count steps while you're driving, like several other products on the market, and if you are using this device to help you lose weight by paring it up with the Fitbit app, you will be able to keep better track and hopefully be more encouraged to keep moving.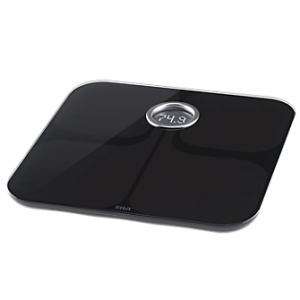 I have found bathroom scales to be very discouraging, in my journey to being healthy. The numbers on these things go up and down, and when you start to see more ups then downs, it can make one want to give up. I have given up several times, so having a scale that shows more than your weight, while trying to live a healthier lifestyle, is a MUST.
The Aria Wi-Fi Smart Scale tracks more than just your weight, it also tracks your body fat and BMI, and uploads it to your Fitbit dashboard. Thus, allowing you do see the progress via graphs and charts. Having it all in one place, and seeing all the numbers will be more encouraging than discouraging, which will hopefully keep you moving, and working to meet your goals.
This is one of those products, I would love to have in my bathroom, to help me reach my goals, I have about 150 pounds to lose, and with the proper tools, and encouragement from friends, family, and fitness accessories, I KNOW I will meet my goals.
MOTOACTV Watch
This is another device I would love to own! The MOTOACTV tracks everything, PLUS it's a smart mp3 player. When working out, it's important to keep track of your heart rate. If your heart rate goes to high, you want to know this, so you can slow down, if it goes to low, you will want to work on raising it up, so that you are getting the most out of your workout.
Music while working out is always a great motivator, so with this particular device doing so much already, plus being an mp3 player is a plus.
Heart rate monitor, smart mp3 player, gps tracker, calorie counter, step counter and more, you can see how this device can help you, achieve a healthier lifestyle.
These are only a few accessories on the market that can not only help you become healthier, but also encourage you to become healthier!
Do you have a favorite fitness device that helps keep you going?  Mine would have to be the Fitbit, maybe one day I will get the other two devices mentioned in this post.