Living a healthy lifestyle can be difficult if you're unsure of proper serving sizes. If you're trying to lose weight learning proper portion sizes is a must. When I first started on my journey I wrote everything down, I found this to be a bit difficult. Having to calculate everything I ate became a bigger task then losing the weight. With a few helpful kitchen gadgets it made getting those proper portions calculated easy!
Zeroll Universal EZ Dishers come in different sizes, and were designed to help those trying to lose weight get the proper serving size every time. This leaves all that guess-work out of the equation and keeping that food log simple. No more guessing, no more assuming, no more forgetting to log what one consumes daily. Which then leads to those numbers coming down on the scales.
Zeroll Dishers have been NSF certified and come in 13 different sizes, which are color coded making it easier on you. The main sizes are…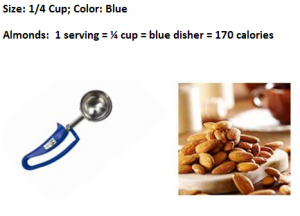 One great thing I love about these dishers is they have no springs, so you don't have to worry about schooling mashed potatoes out, and have a spring land in your food. I also like that they are color coded this makes it so much easier to remember what size is what.
We were able to review the 1/3 cup disher, and I have to say I love it! Measuring portions can be tricky sometimes, and I was guessing, and assuming. With being a bigger person I am not the best at doing the math on portions, so I like that gadgets like these are made, to help people like me.
It really makes life a bit less stressful when you are trying to lose weight.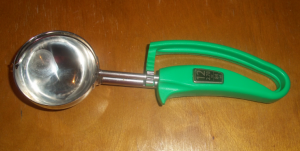 Although,  the dishers are color coded, I wish the company would label the dishers with the size that they were  instead of a number code. I think that would make it a lot easier on the consumers. When it arrived I was unsure what size it was so I had to reference the email. Not all buying the product would have the email for reference. I looked on the site and unless I'm missing something I am not seeing the cup size on there either.
Zeroll Universal EZ Dishers can be purchased on Zeroll.com for $18.00 each. I would love to see the company lower the price some and maybe offer a all on one deal, where one can purchase the main sizes in a package deal. If you are serious about learning proper portion control and losing weight I would recommend this product.
I received product for review purposes only, no other form of payment was received, This is my honest opinion and others will vary.